October 10, 2023 1:00 pm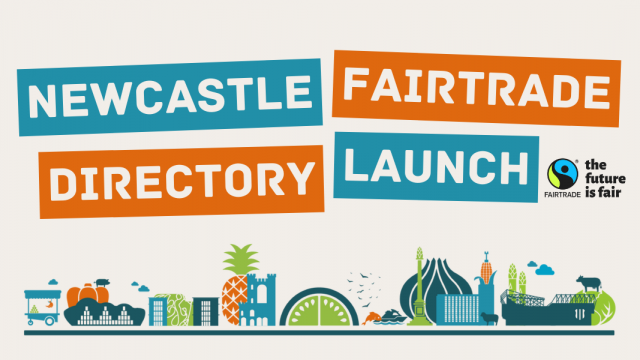 Last week, Newcastle Fairtrade Partnership met at Newcastle Civic Centre for a fairtrade coffee morning to launch their new fairtrade directory. The Directory is an online guide where you can find Fairtrade products and Fairtrade-supporting organisations in Newcastle.
Fairtrade helps businesses source products that are ethically and sustainably produced and gives consumers the confidence that farmers and workers are getting a fair deal for their hard work, and not being exploited.
Fairtrade farmers are on the frontline of climate change, and are experiencing decreasing crop yields, soil erosion, pests and diseases. As a result they are facing income loss and food insecurity, and need support in adapting or mitigating against climate change. Fairtrade Fortnight's theme this year was 'does your favourite food have a future?' The fact is climate change threatens the future of a lot of our most common purchases, from coffee to bananas and chocolate. Every time we choose fairtrade, we can help ensure farmers are paid fairly, and are equipped to respond to increasing climate pressures.
Sustainability in fairtrade isn't just about the environment, as fairtrade allows us to make sure we are supporting workers rights and a decent standard of living for producers. For example, the average prevailing wage for banana workers in Colombia covered by the collective wage bargaining agreement is about 3% more than the estimated living wage, whereas for non-unionised banana workers, it is around 16% less than the living wage.
Lord Mayor of Newcastle said, 'Newcastle's proud to support the work fairtrade does… Fairtrade is about making sure workers, wherever they are, have good pay, good terms and conditions and about making investment in communities and social infrastructure…. The directory is making sure that people know what they are supporting when they buy fairtrade."
Teresa Cairns, Chair of Newcastle Fairtrade Partnership and Councillor for the ward of Monument in Newcastle Upon Tyne, explained "the directory is a part of our proactive commitment to our fairtrade city status in Newcastle. It's indicative of our commitment to see fairtrade as embedded in our local economy, and in our communities. We can be proactive by inviting our communities to show support by using the directory. We also want to extend the directories reach by inviting businesses to join the directory… By choosing fairtrade, it means there is more money and power going to producers facing the effects of climate change."
Buying fairtrade in Newcastle allows us to support our community around the world, and the directory is a brilliant addition to our mission for a more sustainable food culture in Newcastle.
Categorised in: General News
This post was written by Ellen Holmes