November 8, 2022 1:40 pm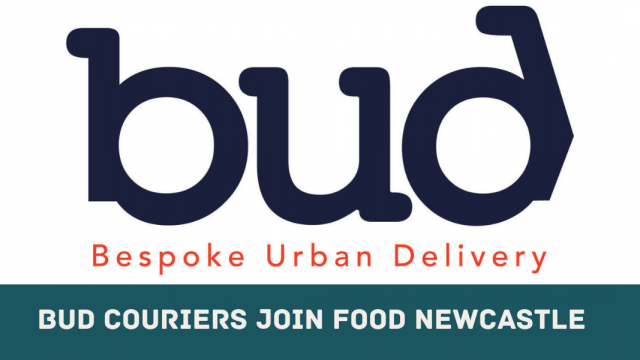 A sustainable food culture is all-encompassing. We have fantastic partners across Newcastle who encourage us to support our communities, shop locally, eat well and waste less.   
 
One of our latest partners has been making big strides the past few years to establish a sustainable way of transporting our favourite businesses to us, and that is Bud Couriers.  
We met James, the founder of Bud Couriers, whilst they were delivering Magic Hat catering to the North East Recycling Forum meeting we were attending. At a meeting for the waste sector, you can imagine that everyone was ecstatic about the fact the catering was made from surplus food, but also that it was delivered with a Cargo Bike! 
It became clear that this sustainable method of delivery is becoming the preferred option for a lot of our favourite local businesses, including vertical farm Fyto, local and independent cheesemonger Grate, and our partner, zero waste and refill shop, Nil Living.  
On our journey to create a more sustainable food culture in Newcastle, we caught up with James to see how Bud Couriers fits in to this mission…
Can you tell us about your ethos as a company?  
Our company ethos is one of friendly, reliability. We chose the name BUD (Bespoke, Urban, Delivery) Couriers because we wish to be a friend to local businesses. We train our couriers on each of our client's businesses so when people ask "what's inside the box" our riders can act as an advocate for whomever it is we are delivering for.
Not only do we deliver boxes, but we also deliver brands, too. When you choose Zero-Carbon, Healthy-Happy, Speedy and Smiley delivery, it says something about your brand. You care about how your clients receive their goods and in turn improve customer satisfaction.
Plus, our bikes are 99% less polluting than a van and we know the shortcuts in Newcastle like the back of our helmets! 

You work with a lot of local businesses such as Grate, Fyto and Pink Lane Bakery. Why is it important to you to work with local people and businesses?  
Newcastle is heaving with independent producers and retailers as well as some really inspirational not-for-profits and community interest groups. Before setting up the business we spoke with many of them about their delivery operations, a common thread we found in Newcastle is the owners or employees would head off to do the deliveries after they closed up the shop for the day, often in the peak of rush hour traffic and found it infuriating.
Making the best use of time is something every business owner holds dear, so being sat waiting in traffic is literally a none starter.
We hope to support Newcastle to get back its time by outsourcing the headache to cargo bikes which are not affected by the stop-start of city centre traffic.
We are Geordie through and through and we want to see our local communities thrive so our goal is to get back the time businesses need to make the ultimate impact they want, without impacting the environment and their pockets.

Food Newcastle's mission is to create a healthier, more sustainable food culture in Newcastle. How do you think Bud Couriers fits into this mission? 
Food Newcastle and Bud Courier's goals coincide, by choosing happy – healthy, speedy- smiley delivery you are choosing to remove 99% of the carbon emissions produced by the typical delivery van. Our goal is to remove the quarter of all the delivery vehicles in the city that travel less than two miles or are carrying at less than 25% capacity.
We are currently only at about 1.5% but with the help of Food Newcastle, its affiliates and supporters we can normalise this less typical delivery method. 
 
Lastly, when you think of a sustainable food culture in Newcastle, what does this mean to you? 
Many of the producers we work with want to create something that is better for the world and doesn't damage it. Much of the goods we deliver are grown, sown, produced and made right here in Newcastle, many of which typically would be flown or driven hundreds of miles before even arriving on Geordie soil, sustainable food culture is one where consumers understand the effects their purchasing habits are having on the community and the wider world, taking into account the ripple effects of a supply chain that starts in other countries. We are encouraging individual users to participate in creating sustainable food cultures in urban environments. 

You can see more from Bud Couriers on Instagram @bud_couriers_ or visit their website www.budcouriers.co.uk
Categorised in: General News
This post was written by Ellen Holmes