REFILL CAMPAIGN
Refill is an award-winning campaign
to prevent plastic pollution at source by making it easier to reuse and refill your bottle instead of buying a new one.
TO FIND OUT MORE CLICK ON THE PICTURE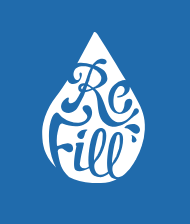 TWO pretty good reasons to start Refilling!
As a nation the UK public are eating and drinking too much sugar which is having a negative impact on our health. Consuming too many foods and drinks high in sugar can lead to weight gain and related health problems, as well as tooth decay.
The average person in the UK will use 150 plastic water bottles every year. If just one in ten Brits refilled once a week, we'd have 340 million less plastic bottles a year in circulation.
The campaign works by
connecting people who are looking for water with thousands of local business, transport hubs and public spaces where they can Refill for free. Anyone can download the free app to find Refill Stations near them where they can refill for free on the go.
TO DOWNLOAD THE REFILL APP CLICK ON THE PICTURE

If you're a business with a publicly accessible tap
then all you need to do is give us a few details to create your free profile on the map. Once your station is live, you'll be ready to welcome thirsty refillers and benefit from increased exposure and footfall as a result.