Theme 4
Strengthen the local sustainable food economy
The Good Food Business Network has now been merged with Food and Drink North East (CIC).
Food and Drink North East (FADNE) CIC is an in industry led cluster looking to leverage its influence by developing an inclusive food culture across the North East.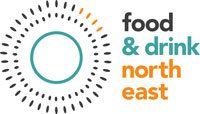 The cluster of partners are working to strengthen the local sustainable food economy. With a focus on food education, supply chain and food policy, FADNE will strive to find innovative sustainability to the greatest challenges in our food chain such as food poverty, sustainability, waste, health and nutrition.
There has been a soft launch of Food Chain in the North East; a tech platform to improve access and short supply chain, the first partnership outside of London. The 3 month pilot will be run until March 2019 with the network being launched soon after.
FADNE has recently taken over the running of the Jesmond Food Market, under the Food Newcastle banner.
Cross links are being explored between this theme, Catering and Procurement and Food Waste.
Chris Jewitt (Managing Director, Food and Drink North East) is the lead for this theme.
For more information email: chris@fadne.org